CERMA STM-3
The Next Generation in Lubrication Technology
Clean, Restore, Lubricate and Protect
Looking for Money Saving Protection for your Engine?
CERMA with STM-3 provides the Maximum Protection
possible in a Motor Oil or Treatment...
All while Restoring your Engine back to Peak Performance!
ENGINE TREATMENTS

FOR GASOLINE AND DIESEL

CERMAX MOTOR OIL

BEYOND SYNTHETIC...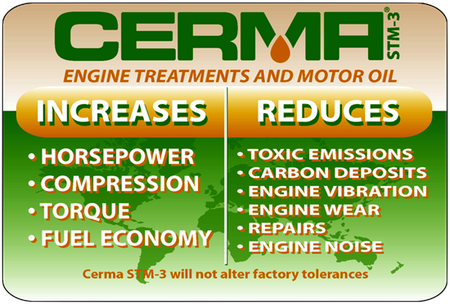 Cerma Products will:

• Restores Engine & Transmision Performance
• Protects New... Revives Old
• Increases Horsepower & Torque
• Increase Fuel Economy (4.2 to 21 % as Tested)
• Reduces Emission Gases (92% as Tested under EPA testing)
• Prevents Hydrogen Embrittlement Damage
• Stops Cold Start Problems (Tested to -40 Deg.)
• All Products are Fully Insured (US & Foreign)
• 100% 90 Day Money Back Guarantee
Notice: All information stated above is based on 14 years of real data, not hype or dreams of a marketing group. Cerma Guarantees It!
---
Cerma performance claims have been reviewed by the Government, we are proud to be the only lubricant ever to be ETV Program Verified

---
Read What Cerma Clients have to say:
Brent Richards
September 11 2012 11:30 am
I am amazed at this product. I put cerma stm3 in my 2009 subaru imprezza and went from 33 mpg hwy. to 38 hwy! the engine seems to be so smooth you can't tell it is running! So then I put it in my 04 dodge hemi sport truck and went from 15.5 to 19.5 mpg hwy! unbelievable!! this stuff is the real deal! I will be ordering more and will treat the transmissions and a/c units and see what that will bring.
Required FTC statement: Results not typical, your results may vary
---
Quick Links
---
Quick Links
---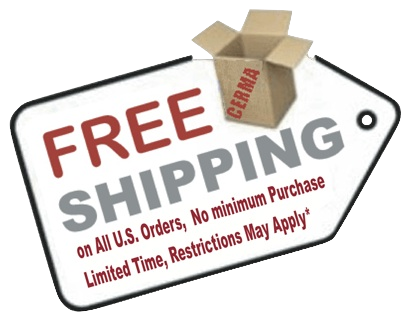 .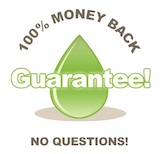 Visitors
Total visits since Jan
2014
Cerma started its journey in a garage in Riverside, California. While working on a lubricant to improve oil change intervals, inventor John Murray created Cerma Engine. Cerma's research and development lab moved to a warehouse in Gardena, CA, where oil tests, fuel tests, compression and torque tests, and horsepower tests were achieved in cooperation with local race and fleet owners. Tests were achieved on automobiles, racecars, and diesel tricks. Quickly it was discovered that Cerma, when added to the engine oil, dramatically increased performance and protection, allowing users to extend oil change intervals. Increased fuel economy was another aspect that was achieved with Cerma Engine. Save Gas and Save Oil with Cerma was the new motto. Cerma started to market Cerma Engine treatment and developed products using the same technology for automatic transmissions and manual transmissions. Cerma Auto Transmission, when added to the transmission fluid, restores performance, stops leaks, restores smooth shifting, stops slippage, and eliminates rough shifting, In general, Cerma transmission will fix most transmission issues while providing preventative maintenance and extending fluid life by up to four times. It also extends protection to planetary gears. Cerma also works with Diesel Trucks and Diesel Semi-Trucks. Taken from Driver Testimonial: "I would estimate a 5-7 percent increase in fuel economy. This truck has stopped smoking, now runs very smooth and quiet and has a lot more power. I haul cattle, and the last time I was coming through Detroit, I wanted to pull over to check if my trailer was open and the critters were getting out. It was like the trailer wasn't there at all. I experienced a very noticeable pulling improvement. The next step was for Cerma to mix its additive pack into engine oil and create a motor oil that would have all the same properties as the Cerma treatment. This was achieved after extensive research and development in our laboratory in Texas, and CermaX Motor Oil was born. Cerma Motor Oil and CermaX Motor Oil use Cerma's proprietary SiC technology to provide maximum protection, restore performance, and extend oil change intervals. Cerma Motor Oils, when used under Cerma protocols, will last up to 15,000 miles. CermaX Motor Oils, CermaX Oils, and CermaX Fluids, when used under Cerma protocols, will last up to 30,000 miles. Together, Cerma engine oil additive and CermaX motor oils will work to restore power to your engine as well as get better gas mileage. In our internal testing, the use of Cerma engine treatment will achieve a nice increase in fuel economy, and after treated, adding Cerma motor oil or CermaX motor oil will give your engine an additional boost in performance and save gas. Cerma are the best engine treatments on the market today. Cerma motor oil, CermaX fluids, and CermaX oils are the best motor oils, fluids and oils on the market. Cerma AC and refrigeration was created to add our technology to these units in order to improve efficiency, shorten compressor cycle times and save power. Cerma AC also improves heat transfer, reduces internal moisture and acid build up, and makes for a quiet compressor unit.