CERMA STM-3
The Next Generation in Lubrication Technology
Cerma with STM-3® is the worlds most advanced lubrication
Clean, Restore, Lubricate and Protect
Looking for Money Saving Protection for your Engine?
CERMA with STM-3® provides the Maximum Protection
possible in a Motor Oil or Treatment...
All while Restoring your Engine back to Peak Performance!
ENGINE TREATMENTS

FOR GASOLINE AND DIESEL

CERMAX MOTOR OIL

BEYOND SYNTHETIC...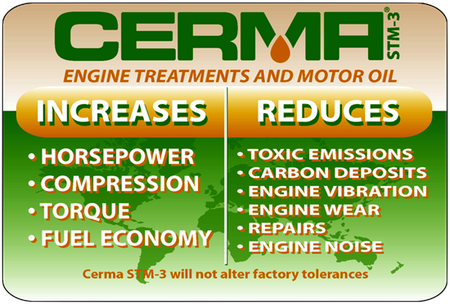 Cerma with STM-3 Technology will:

• Out-Perform any Oil
• Restores Engine & Transmission Performance
• Protects New... Revives Old
• Increases Horsepower & Torque
• Increase Fuel Economy (4.2 % under EPA testing within 24 Hr's)

• Reduces Emission Gases (92% under EPA testing)

• Help to Prolong Operational Life

• Stops Cold Start Problems (Tested to -40 Deg.)
• All Products are Fully Insured (US & Foreign)
• 90 Day Money Back-Satisfaction Guarantee
STOPS THE FORMATION OF DEPOSITS WITH YOUR ENGINE , TRANSMISSION..
Notice: All information stated above is based on 14 years of real data, not hype or dreams of a marketing group. Cerma Guarantees It!
---
Cerma performance claims have been reviewed by the Government, we are proud to be the only lubricant ever to be ETV Program Verified

---
Read What Cerma Clients have to say:
Brent Richards
September 11 2012 11:30 am
I am amazed at this product. I put cerma stm3 in my 2009 subaru imprezza and went from 33 mpg hwy. to 38 hwy! the engine seems to be so smooth you can't tell it is running! So then I put it in my 04 dodge hemi sport truck and went from 15.5 to 19.5 mpg hwy! unbelievable!! this stuff is the real deal! I will be ordering more and will treat the transmissions and a/c units and see what that will bring.
---
Comment by Turbomatte
Wanted to update on the Lancer. We are 2k miles into the cerma max 5w40 oil and I pulled the dipstick... No joke it looks like I just did the oil change. I'll post up pics when I get a chance. As a reminder the Lancer has 111k so I expected to see some dark oil. But it was completely see through and honey brown just like the day I put it in. Take it or leave it. I have always taken good care of this car, but it runs better than it ever has.
To read more customer testimonials CLICK HERE

Required FTC statement: Results not typical, your results may vary
---
Quick Links
---
Quick Links
---
Motor Oil Finder
Motor Oil Brand
Viscosity
Fuel Type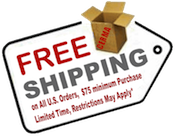 .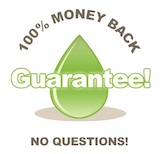 Visitors
Total visits since Jan
2014